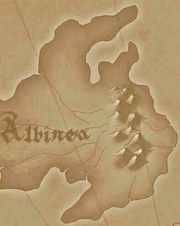 Albinea is a continent to the northwest of Fódlan.
Profile
Albinea is an intensely frigid land home to rare species of flora and fauna. As the climate is prohibitively cold for agriculture, the population of Albinea is extremely small.
Etymology
Albinea could be named after Albion, the oldest known name of Great Britain, or Alebion, a son of Poseidon who attacked Heracles.
Characters at Garreg Mach Monastery