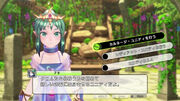 The Bloom Palace is a location in Tokyo Mirage Sessions ♯FE.
Profile
The Bloom Palace is a key location where party upgrades are performed. It is accessible through a special door in the Fortuna Entertainment office. Here, the player can meet with Tiki, who governs the services available. The party's Mirages can be powered up through Carnage Unity and the Mirage Masters through Radiant Unity, and Mirages can be promoted to new classes by using a Master Seal. The party's Mirages can also be found in the Bloom Palace, where they can be conversed with. Tiki herself does not have a physical form and cannot leave the Bloom Palace.
In addition to Tiki's actions, the Bloom Palace is also the location of the Area of Memories, an Idolasphere that does not appear until Chapter 6. If the player has purchased and downloaded the required DLC, the player can also access special dungeon areas designed for grinding character and skill experience, and for facing off against challenging Savage enemies.
Trivia
The Bloom Palace and Tiki's role within it reflect that of a number of facilities and characters across the Megami Tensei franchise; figures found in special locations whose role is primarily to aid the player in performing the franchise's core mechanic of demon fusion. Such analogues include:
Gallery