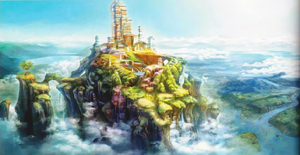 Castle Shirasagi is a location in Fire Emblem Fates.
Castle Shirasagi is the royal castle in Hoshido. It stands atop a sheer-sided mountain surrounded with the Hoshidan capital at its base, and serves as the residence of Queen Mikoto and her step-children Ryoma, Hinoka, Takumi, and Sakura.
Inside the castle is the Throne of Truth, which reveals the true personality of those who sit on it. The Throne of Truth was a gift from the king of Valla, according to Azura on the Revelation route.
Shirasagi is the Japanese word for Pure-white Heron (白鷺, or great egret). It is also the nickname of Himeji Castle, an 83-building complex near Osaka, which earned the nickname because the white plaster walls resembled an egret's or heron's outstretched wings.
Castle Shirasagi inspires the Castle Sol stage in Fire Emblem Warriors, which often hosts missions including Hoshidan characters.
---
This article is a stub. You can help the wiki by expanding it.
---
Community content is available under
CC-BY-SA
unless otherwise noted.