Catherine is a character from Fire Emblem: Three Houses. She teaches at the Officers Academy and is one of the Knights of Seiros. As an instructor at the Academy, she offers lessons in Swords and Brawling. She possesses a major Crest of Charon. She is 27 years old at the start of the game.
Profile
Catherine is an alumnus of the Garreg Mach Monastery Officers Academy. She is a fearsome swordswoman who wields Thunderbrand, one of the legendary weapons known as the Heroes' Relics, and is loyal to Archbishop Rhea. Catherine has the rare trait of being able to identify a Crest just by looking at the person.
| | |
| --- | --- |
| | "Just a minute! The following section contains spoilers, viewing it will cost a lot. Are you prepared to pay for it?" |
---
Academy Phase
War Phase
Crimson Flower
| | |
| --- | --- |
| | "Just a minute! The following section contains spoilers, viewing it will cost a lot. Are you prepared to pay for it?" |
---
Personality
As one of the most powerful Knights of Seiros, Catherine is extremely loyal and a devout believer in the Church and Rhea, the latter being explicitly hinted as an attachment. Extremely loyal to Rhea, she will follow just about any order she says regardless of how morally conflicting it may be to others. The only time she would disobey her order was if she was to sacrifice her life to protect her. Being a devout believer of the Church, she admits to Shamir that if someone she did not know spoke of heresy, she would cut them down on the spot.
There are times when she questions whether Rhea's actions are right, as in the Crimson Flower route when Rhea orders her to burn Fhirdiad she becomes visibly shocked and laments if there is no other way. However, her sense of loyalty drives her to go through with the burning of Fhirdiad anyway, proving just how far she will go in obeying orders from Rhea, even though she's beyond insane at this point. 
Aside from her role as Rhea's bodyguard, she is a fierce warrior with a reputation to back up her skills. While many knights idolize her, she feels that she is not worthy of such praise. She has an innate sense of identifying people with crests with a single glance. She could correctly pick up on Lysithea's crest secret and knows that she has a Crest of Charon like she does. The two can form a bond akin to sisters if their support is pursued.
Contrary to her reputation as a fearsome knight, Catherine is light-hearted and is willing to help others with any problems they may face. She gets along well with Shamir despite their vastly different personalities, due to having fought numerous battles together.
In-Game
Base Stats
As an Enemy
| Skill | | | | | | | | | | | |
| --- | --- | --- | --- | --- | --- | --- | --- | --- | --- | --- | --- |
| Level | A | E | E | E | E | E | E | A | E | E | E |
| Start | | | | | | | | | | | |
| Skill | | | | | | | | | | | |
| --- | --- | --- | --- | --- | --- | --- | --- | --- | --- | --- | --- |
| Level | A | E | E | E | E | E | E | A | E | E | E |
| Start | | | | | | | | | | | |
Growth Rates
Maximum Stats
Learnt Magic
Overall
| | |
| --- | --- |
| | Subjective: The following part of this article is based upon the editor's personal experiences and opinions, and therefore may not be applicable for all readers. |
Catherine is a powerful physical attacker right out of the gate, having good speed and strength that only get better as she levels up, along with a decent amount of health. Her dexterity growth can be a bit shaky, though, and it starts considerably lower than her strength and speed, so she can sometimes have accuracy problems (which aren't helped by Thunderbrand being an innately inaccurate weapon). However, besides the aforementioned stats, Catherine's growths are unremarkable, especially in terms of her defenses, meaning any blows that hit her are going to hurt, and she won't be the best at dodging due to sub-par luck.
Another major issue with Catherine is her skill proficiencies; she might be strong with Swords and Brawling, but due to having no other strengths, a weakness in Reason, and due to War Master being unavailable to her, it can be very tricky trying to promote her to any of the Master-tier classes, especially Mortal Savant. It is likely that the player will want to keep her as a Swordmaster since it is the best class for her to utilize Thunderbrand and synergizes well with her growth rates. Training up her Brawling skill can still be useful, giving her access to Healing Focus, but she sadly cannot become a Brawler or Grappler. It can also be worthwhile to temporarily downgrade her to classes like Mercenary to get Vantage and train her in other weapons to get helpful skills. Training her in Bows, for instance, could let her temporarily become an Archer for the Hit +20 skill, something that can help her accuracy issues, while training her in Axes to make her a Brigand can give her Death Blow to further augment her impressive damage output. However, one should try to concentrate her goals on Sword in order to reach the S+ rank and acquire Swordfaire, which will be a substantial boost to her damage in both the player and enemy phases. If one is truly diligent (though this will likely require the use of New Game +), one could try training Catherine in Flying in order to get Alert Stance+. Combined with Sword Lvl 5, this would allow Catherine to dodge many attacks, though this will likely require training in Lance or Axe as well to access Pegasus Knight or Wyvern Rider.
Supports
See also: Catherine/Supports
Quotes
Possible Endings
| | |
| --- | --- |
| | "Just a minute! The following section contains spoilers, viewing it will cost a lot. Are you prepared to pay for it?" |
---
Non-Canon Appearances
Catherine is illustrated in the trading card game Fire Emblem Cipher with the following cards:
Etymology
Catherine comes from the earlier Greek name Hekaterine, which derives from hekateros "each of the two". Originated from the goddess Hecate; it's related to Greek aikia "torture"; or a Coptic name meaning "my consecration of your name".
In the early Christian era it became associated with Greek katharos "pure". The name was borne by a semi-legendary 4th-century saint and martyr, Saint Catherine, from Alexandria who was tortured on a spiked wheel.
Trivia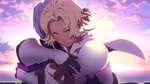 Catherine has an unused artwork depicting her S-Support with Byleth in the Crimson Flower route, suggesting that she was initially able to join the Black Eagle Strike Force but was later scrapped.
Despite the name of her signature weapon Thunderbrand, her Reason Magic is geared towards Fire Magic rather than Thunder.
Catherine, Cyril, Seteth, Gilbert and Jeritza are the only characters (excluding the houses leaders and their retainers) that won't join the army if a specific house is chosen.
In chapter 3, even if Catherine says that she'll fight Lonato, she'll never engage him directly.
In a survey conducted by Famitsu Magazine, Catherine placed 18th for females and 37th overall with 71 votes in the character popularity poll for Fire Emblem: Three Houses.
Catherine shares her English voice actress, Laura Post, with Silvia (from Genealogy of the Holy War) in her appearance in Fire Emblem Heroes.
Gallery
---
This article is a stub. You can help the wiki by expanding it.
---