Claude is a playable character and one of the protagonists in Fire Emblem: Three Houses. He possesses a minor Crest of Riegan, and is the presumptive heir to the noble house of the same name. Claude is the leader of the Golden Deer house at the Officers Academy, and wields bows as his main weapon. He is 17 years old at the start of the game.
Early Life
Edit
| | |
| --- | --- |
| | "Just a minute! The following section contains spoilers, viewing it will cost a lot. Are you prepared to pay for it?" |
---
Claude is the heir to House Riegan, the preeminent house of the Leicester Alliance, and the grandson of its leader through his mother, Tiana. Though he was born in Imperial Year 1162, he was not legitimated as heir until Imperial Year 1179, a year before enrolling at the Officers Academy.
Academy Phase
Edit
As a student at the Officers Academy in Garreg Mach Monastery in Imperial Year 1180, Claude is the house leader of the Golden Deer.
| | |
| --- | --- |
| | "Just a minute! The following section contains spoilers, viewing it will cost a lot. Are you prepared to pay for it?" |
---
Cindered Shadows
Edit
| | |
| --- | --- |
| | "Just a minute! The following section contains spoilers, viewing it will cost a lot. Are you prepared to pay for it?" |
---
War phase
Edit
| | |
| --- | --- |
| | "Just a minute! The following section contains spoilers, viewing it will cost a lot. Are you prepared to pay for it?" |
---
Silver Snow
Edit
| | |
| --- | --- |
| | "Just a minute! The following section contains spoilers, viewing it will cost a lot. Are you prepared to pay for it?" |
---
Crimson Flower
Edit
| | |
| --- | --- |
| | "Just a minute! The following section contains spoilers, viewing it will cost a lot. Are you prepared to pay for it?" |
---
Azure Moon
Edit
| | |
| --- | --- |
| | "Just a minute! The following section contains spoilers, viewing it will cost a lot. Are you prepared to pay for it?" |
---
Verdant Wind
Edit
| | |
| --- | --- |
| | "Just a minute! The following section contains spoilers, viewing it will cost a lot. Are you prepared to pay for it?" |
---
Personality
Edit
Claude is described as easygoing at the surface, but has a side that forces others to keep their guard around him. His introduction to Byleth at the Officers Academy emphasizes this as he refrains from divulging his potential professor any information about himself to give himself a "sense of mystery" and to entice them to choose his house in order to get to know him better. While appearing lazy and casual, he is far more astute than he lets on and is always a few steps ahead of his peers during conversations.
He tends to get along with those he interacts with, but his nonchalant attitude to his duties as heir to the Leicester Alliance seems at odds with each other and sometimes frustrates his fellow nobility classmates, namely Lorenz. Despite this, he has a wealth of knowledge of the Alliance's current state of affairs and has enough diplomatic sense to understand the ramifications of certain potential actions of Alliance against the neighboring country of Almyra.
He is a cunning strategist and is particularly skilled at mind games to throw his opponents off. He openly converses with Byleth of a ploy to give his house rivals food poisoning to give his house an advantage in the first mock battle. While he does not do so, he simply stated it to rile his rivals. He cares greatly for those under his command, valuing their lives and advises them to retreat rather than fight to the death, as shown in the Crimson Flower route numerous times. He abhors killing, only doing so if completely necessary; his tactics generally rely on incapacitating the enemy. His skills as a tactician have grown significantly after the time-skip that his guise of neutrality intimidates other nations' advisers, such as Hubert, as they know he has ulterior motives in hand.
Claude dislikes blind faith in gods, as he prefers to rely on the strength of men. On the other hand, he enjoys archery, long rides, subjects of curiosity, poetry, scheming and organizing feasts.
| | |
| --- | --- |
| | "Just a minute! The following section contains spoilers, viewing it will cost a lot. Are you prepared to pay for it?" |
---
Base Stats
Edit
As an Enemy
Edit
| Skill | | | | | | | | | | | |
| --- | --- | --- | --- | --- | --- | --- | --- | --- | --- | --- | --- |
| Level | E | E | E | E | E | E | E | E | - | - | - |
| Start | | | | | | | | | | | |
| Skill | | | | | | | | | | | |
| --- | --- | --- | --- | --- | --- | --- | --- | --- | --- | --- | --- |
| Level | B | D | D | B | E | D+ | D | B | - | - | B |
| Start | | | | | | | | | | | |
Growth Rates
Edit
Maximum Stats
Edit
Learnt Magic
Edit
| | |
| --- | --- |
| | Subjective: The following part of this article is based upon the editor's personal experiences and opinions, and therefore may not be applicable for all readers. |
Claude is the primary Lord for the Golden Deer, meaning that he will be one of the most used members of the Verdant Wind path for most chapters. He has the best Speed and Dexterity of the Lord trio, allowing him to easily double and launch critical hits, but has the lowest Strength and overall bulk growths, leaving him more fragile than the other two and giving him a bit more difficulty in dealing with heavily-armored opponents. His Luck growth is better than both Dimitri and Edelgard, letting him avoid magic attacks and score critical hits with ease (while also making him less susceptible to critical hits). He also naturally has a high Charm growth allowing him to effectively use Battalions. Overall, he is generally geared towards ranged combat, namely through Bows, of which is his highest starting subject affinity and primary choice of weapon. His Magic growth is low and his Reason mostly comprises of Wind magic and his Faith list is also fairly standard though he notably learns Silence. While this may be a quirky option, it is not particularly optimal especially when playing Hard and Maddening where battles and tutoring is limited.
Claude bears the Crest of Riegan, occasionally restoring 30% of his HP when he uses Combat Arts. Bows heavily utilize them to increase range through Arts like Curved Shot and Claude is no exception, thus he can use its effects whenever he is injured. He has a Heroes' Relic and a Sacred Weapon at his disposal. His Heroes Relic is Failnaught, a powerful bow that grants him the ability to use Fallen Star. By consuming three uses, Fallen Star not only deals effective damage against Dragon foes, but also allows him to completely avoid all attacks the next turn, giving Claude an excellent means of softening an opponent and then protecting himself. His sacred weapon is the Sword of Begalta, giving him a Renewal effect whose effect is increased in his hands.
Claude's subject strengths are in Swords, Bows, Authority, Riding, and Flying and has a Budding Talent for Axes, which grants him the Combat Art Diamond Axe when unlocked. His Subject Weaknesses are Lances and Faith. Claude shines best in the Myrmidon and Fighter lines due to his inherent strengths, but he also has his exclusive Lord line of classes with the aforementioned class plus his timeskip Wyvern Master and Barbarossa classes, the latter two turns him into a mobile attacker with superior movement due to being a flying class, though it does make him vulnerable to Bows and Excalibur as a result. Mastering the Barbarossa grants him the Wind God skill, a huge range Combat Art that far exceeds Curved Shot with a massive 2-5 range.
His normal class options for Claude to go through are the Mercenary lines for skills like Vantage and later Defiant Strength as a Hero and Archer lines for Hit Rate +20 if his hit rates are somehow shaky or if fighting a particularly slippery opponent. While his lances are a bit of a weakness, he can go into the Cavalier lines for Desperation and Aegis as a Paladin. With his unlocked mastery in Axes, the Brigand's Death Blow is available as well as the Warrior classes Wrath. The Wyvern Rider class is also available as a near identical option to his Lord Classes, thus will give him an early start, especially when considering mastering it teaches him Seal Defense to help with his semi-low Strength growths while the Wyvern Lord is an excellent Master Class for Defiant Crit. Bow Knight can also be a viable option, but again, his Lance weakness does hinder him somewhat in unlocking the class, but he only requires a C mastery of Lances unlike the Paladin which requires a B. Moreover, one may still take the exam with a very good success rate at D+ or even D lance given that the other two requirements are met. Other options include the Thief and Assassin classes for their excellent growth rates and stats that mesh well with Claude's already high Speed and Dexterity, and obtaining Lethality from Assassin may help with tougher enemies on higher difficulties.
Overall, Claude lives up to his Lord status and is the most nimble of the three Lords in the game. Though he lacks Dimitri's raw power and Edelgard's magical prowess, Claude makes up for this with his speed and strong crit capabilities. Claude also is far more mobile than the other two thanks to his skill strengths, and his unique Barbarossa class allows him far more tactical maneuverability than his peers.
Lost Items
Edit
| Lost Item | Description |
| --- | --- |
| Mild Stomach Poison | |
| Board Game Piece | |
| Leather Bow Sheath | |
Three Houses Edit
Possible Endings
Edit
Three HousesEdit
| | |
| --- | --- |
| | "Just a minute! The following section contains spoilers, viewing it will cost a lot. Are you prepared to pay for it?" |
---
Non-Canon Appearances
Edit
Super Smash Bros.Edit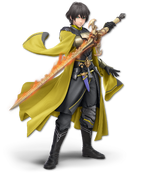 Claude appears in Super Smash Bros. Ultimate as a background character at Garreg Mach Monastery. He also appears as a spirit in both his Academy and War phase appearances and Byleth's fifth alternate palette is based off Claude.
Claude is illustrated in the trading card game Fire Emblem Cipher with the following cards:
Etymology
Edit
Claude is a French given name derived from the Roman emperor Claudius. In view of the evident reference to the Shakespearean play King Lear that a majority of the Golden Deer (including him) play off of, his name may also have derived from King Claudius from Hamlet, the primary antagonist of the tragedy.
Khalid (variants include Khaled and Kalid; Arabic: خالد) is a popular Arabic male given name meaning "eternal," "endless," or "immortal."
Regan is a name likely derived from ancient Gaelic and means "little king." Furthermore, Regan is also the name of King Lear's second daughter, continuing the references to Shakespeare.
Claude shares his English voice actor, Joe Zieja, with Jamke and Canas in Heroes.

Joe Zieja stated in an interview that in his audition for Three Houses, he did readings for other characters such as Dimitri, Dedue, and Ferdinand before being chosen as Claude.
Starting from 17th August 2019, Zieja published his playthrough of the Golden Deer route in his YouTube Channel.

Game director Toshiyuki Kusakihara stated in an interview that the writers drew inspiration from Rajendra from The Heroic Legend of Arslan and Yang Wen-li from Legend of the Galactic Heroes when creating Claude.

The interview states that Nader was intended to reveal that Claude's real name is Khalid, but this was eventually scrapped.

Claude stands at 175cm (or about 5'9").
Claude is one of the few Lords in the Fire Emblem series to not feature the color blue either in his hair or his clothes, a distinction he shares with both Celica from Gaiden and its remake and fellow Three Houses lord Edelgard.
Due to House Riegan being a cadet branch of the Blaiddyd royal family, Claude is distantly related to Dimitri.
Claude has the most supports with students outside of the Golden Deer compared to the other two Lords, which are Annette, Ingrid, and Petra. Dimitri has Marianne and Raphael while Edelgard only has Lysithea.
Claude can have the most skill proficiencies in the game with a total of six, after unlocking his budding talent in axes. He shares this distinction with Balthus.
As a boss in the Crimson Flower route, Claude is one of the few bosses in the Fire Emblem series that will be an entirely different class depending on the difficulty, either being a Wyvern Master on Normal or being a Barbarossa on Hard and Maddening.
Claude is the only house leader in Three Houses that can survive in the majority of the routes. He lives by default in the Azure Moon and Verdant Wind routes, and he can be either spared or killed by Byleth in the Crimson Flower route. His fate in the Silver Snow route, however, is left ambiguous and is reported to be missing.

Compared to the other house leaders, Edelgard only survives in the Crimson Flower route, and Dimitri survives by default in the Azure Moon route, and like Claude, his fate is left ambiguous in the Silver Snow route. Though unlike Claude, he is reported dead rather than missing.

Claude's design and characteristics share a lot of similarities with Persian culture. This includes:
Claude has placed high in several character polls done in magazines for Fire Emblem: Three Houses. These include:
In the fourth Fire Emblem Heroes: Choose Your Legends popularity poll, Claude ranked 2nd place for males and 3rd place overall with 59,751 votes.
Community content is available under
CC-BY-SA
unless otherwise noted.