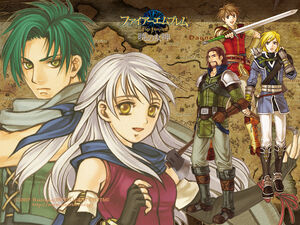 "Who do you scum think you are? The Dawn Brigade?"
—
Pugo
to any of the Dawn Brigade's members
The Dawn Brigade is a rebel group from Daein.
History
After the events of the The Mad King's War, Begnion began occupying Daein and assumed authority over the nation. The Begnion Occupational Army began overrunning the nation, subjecting the citizens to cruel treatment, taxation, and even putting able-bodied men into work/prison camps. The group was formed from Micaiah and Sothe and their decision to save Daein from the Begnion Occupational Army by hindering the soldier's activities, and by Nolan's efforts to do the same with Leonardo and Edward joining him after he saved them from the soldiers pursuing them. In time, Micaiah learns of Nolan's group and Sothe leads them to one of his hideouts where they decide to join together to save Daein's people. Inspired by the sunset that was shining into the alley, Micaiah names the group the "Dawn Brigade", and Nolan, as the oldest among them, was agreed upon to be their leader.
The Dawn Brigade traveled throughout Daein, helping the citizens in trouble and fight against the Begnion Occupational Army at any opportunity that they could. Later, in the Desert of Death, it merged with the Daein Liberation Army, led by Pelleas.
Members
The members of the Dawn Brigade initially started off with five members, but the group grew in number up until the group merged into the Daein Liberation Army. The following were members of the Dawn Brigade prior to the merge.
Trivia