Dimitri is a playable character and one of four main protagonists in Fire Emblem: Three Houses. He is the 17-year-old prince of the Holy Kingdom of Faerghus and the house leader of the Blue Lions. Dimitri possesses a Minor Crest of Blaiddyd and wields Lances as his main weapon.
Profile
Early life
Dimitri is the crown prince of the Holy Kingdom of Faerghus. He was born in Imperial Year 1162 as the eldest son of King Lambert; his mother, the queen consort, perished in a plague that was later cured by Cornelia. He befriended Edelgard during her exile and she taught him how to dance. Dimitri gave her a dagger as a token of affection before she returned to the Adrestian Empire in 1174.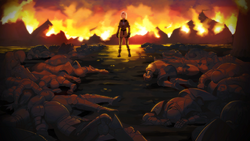 Dimitri was the only surviving royal of the Tragedy of Duscur in 1176. His uncle and Lambert's elder brother, Grand Duke Rufus of Itha, ruled as regent in Dimitri's stead. During the Kingdom's retaliatory subjugation of Duscur, he saved and befriended Dedue who became his vassal. He fought his maiden battle two years later, where he distinguished himself as a commander in quelling a rebellion in western Faerghus. However, a strange bloodlust overtook him during that battle, which strained his relationship with Felix from that point on.
Academy Phase
In 1180, Dimitri enrolls as a student of the Officers Academy in Garreg Mach Monastery and serves as the house leader of the Blue Lions. His childhood friends Sylvain, Ingrid, and Felix are among his classmates. His story changes depending on what class Byleth chooses to teach.
Blue Lions
Byleth chooses to instruct the Blue Lions house, helping Dimitri grow into a capable leader. During the night of the Academy Ball, the Blue Lions vow to reunite in five years for the Millennium Festival. Dimitri agrees to the reunion and hopes that everyone can make it.
| | |
| --- | --- |
| | "Just a minute! The following section contains spoilers, viewing it will cost a lot. Are you prepared to pay for it?" |
---
Cindered Shadows
| | |
| --- | --- |
| | "Just a minute! The following section contains spoilers, viewing it will cost a lot. Are you prepared to pay for it?" |
---
War Phase
Azure Moon
| | |
| --- | --- |
| | "Just a minute! The following section contains spoilers, viewing it will cost a lot. Are you prepared to pay for it?" |
---
Silver Snow
| | |
| --- | --- |
| | "Just a minute! The following section contains spoilers, viewing it will cost a lot. Are you prepared to pay for it?" |
---
Verdant Wind
| | |
| --- | --- |
| | "Just a minute! The following section contains spoilers, viewing it will cost a lot. Are you prepared to pay for it?" |
---
Crimson Flower
| | |
| --- | --- |
| | "Just a minute! The following section contains spoilers, viewing it will cost a lot. Are you prepared to pay for it?" |
---
Personality
A sincere young man who seems like the embodiment of chivalry, Dimitri has a shade of darkness lying beneath his cheerful demeanor. Despite being a royal, he dislikes formality and pretentiousness, preferring his allies to be frank.
Dimitri has a strange sense of humor, which is evident by his fondness for Alois's corny jokes. By his own admission, he finds them humorous precisely because they are terrible. According to Hapi, there is an uncanny resemblance to his stepmother Patricia in terms of personality, such as the way they interact with people and show anger. He enjoys combat training, weapon repair, and long rides, but dislikes fragile objects and delicate work, as he is unable to control his prodigious strength. Despite this, he is agile and became a capable dancer under Edelgard's tutelage. Like Edelgard, he is uncomfortable with scorching heat.
Dimitri suffers from ageusia and survivor's guilt as a result of the slaughter in the Tragedy of Duscur. The former leaves him as the only person able to stomach Flayn's food and the latter causes him to see and hear apparitions of the dead. He is close to Dedue and admits that being able to save someone gave him a reason to live. In regards to the Crest System, Dimitri holds somewhat of a mixed stance towards it. While he believes that the system can be cruel for those like Miklan where it overlooks his own merits in favor of those with Crests, he maintains the stance that discarding such beliefs would cause greater problems. He overall believes that the two sides must reach an understanding with one another.
| | |
| --- | --- |
| | "Just a minute! The following section contains spoilers, viewing it will cost a lot. Are you prepared to pay for it?" |
---
In-Game
Base Stats
As an Enemy
| Skill | | | | | | | | | | | |
| --- | --- | --- | --- | --- | --- | --- | --- | --- | --- | --- | --- |
| Level | E | E | E | E | E | E | E | E | - | - | - |
| Start | | | | | | | | | | | |
| Skill | | | | | | | | | | | |
| --- | --- | --- | --- | --- | --- | --- | --- | --- | --- | --- | --- |
| Level | D+ | B | E | E | E | E | E | C | - | - | - |
| Start | | | | | | | | | | | |
| Skill | | | | | | | | | | | |
| --- | --- | --- | --- | --- | --- | --- | --- | --- | --- | --- | --- |
| Level | B | B | D+ | C | C+ | E+ | E+ | B | - | - | - |
| Start | | | | | | | | | | | |
| Skill | | | | | | | | | | | |
| --- | --- | --- | --- | --- | --- | --- | --- | --- | --- | --- | --- |
| Level | B | A | C | C+ | B | D | D | A | - | - | - |
| Start | | | | | | | | | | | |
Growth Rates
Class:
Maximum Stats
Learnt Magic
Learnt Abilities
Recruitment
Dimitri is first playable in the prologue and will stay with Byleth if they choose to teach the Blue Lions house in the next chapter. Otherwise, he is unrecruitable in the other two houses. Note that any items that Dimitri has in the prologue will be lost if another house is chosen, so it is best to trade with Byleth before the prologue ends.
Overall
| | |
| --- | --- |
| | Subjective: The following part of this article is based upon the editor's personal experiences and opinions, and therefore may not be applicable for all readers. |
As the main Lord of the Azure Moon route, Dimitri can be deployed on almost every map. Of the Lord trio, he is the most durable with a high HP growth and good Defense growth and boasts the highest Strength growth in the game, making him an excellent front line unit capable of taking punishment from enemies. His only downsides are his mediocre Resistance and Luck growths, leaving him vulnerable to Mages and susceptible to critical hits as well as slightly lowering his critical hit and magical avoid.
As a bearer of the minor Crest of Blaiddyd, he can double his damage output when using Combat Arts at the cost of more weapon durability; while it is useful in dire situations, it has a very low activation rate and will require some equipment management.
Given his skill levels, Dimitri will have easy access to the Myrmidon class family (Myrmidon, Mercenary, Thief, Swordmaster), Soldier class family (Soldier, Cavalier, Paladin), and his exclusive Lord class family (Lord, High Lord, Great Lord). However, his class repertoire lacks versatility compared to the other main characters. Dimitri should also be prioritized for Tutoring during the Academy Phase, as he cannot be Tutored nor affected by Goals and Group Tasks from Chapter 13 to Chapter 17. Compared to the other lords, he only has four in-game months of Tutoring and Goal experience during the War Phase.
Specifically, his affinity for Lances and budding talent in Riding encourage Dimitri to progress through the cavalry class line. Although mastery of this class progression is not necessary, they do offer useful abilities such as Desperation from Cavalier, but care should be taken in regards to the Speed growth penalty applied by Cavalier and Paladin. In terms of master class, while Wyvern Lord is tempting due to its high statline, Dimitri has low starting levels for Flying and Axes as well as a bane in the latter. A suitable alternative would be Bow Knight, as this class avoid his banes and +2 Bow Range synergizes well with his Seal Movement budding talent and Canto. Despite his bane in Axes, it is worthwhile to class him into Brigand to acquire Death Blow, which will provide a damage boost to player phase attacks. Advancing Dimitri to War Master will require diligence, but learning Quick Riposte will allow him to double while preventing follow-up attacks on enemy phase if his HP ≥ 50%. Flying is also worth investing in for Alert Stance+, which combines well with Dimitri's post-timeskip personal skill, giving him excellent Avoid chance on enemy phase if he has full HP. However, these skills may require New Game+ or grinding unlimited auxiliary battles on Normal difficulty.
Dimitri excels in utilizing battalion skills as he is the only unit in the game that can access both Battalion Vantage and Battalion Wrath. When using these skills with a weapon like Wo Dao or Killer Lance equipped, a high Dexterity Dimitri can easily achieve 100% critical chance during the enemy phase and kill enemy units before they can retaliate. If Quick Riposte is acquired, this combination will let Dimitri inflict two critical hits before the enemy can counter. After the timeskip, Dimitri receives the King of Lions Corps battalion, whose Wave Attack gambit is effective against Armored foes. He receives the Hero's Relic Areadbhar after Chapter 15, which grants him the combat art Atrocity, allowing Dimitri to deal effective damage to every enemy type as well as +15 Might and +20 Hit at the cost of -3 weapon durability.
Overall, Dimitri is perhaps the most powerful physical offensive unit available to the player. While Claude is faster and more accurate, and while Edelgard is more adept with magic, Dimitri can dish out more punishment than either of them while being able to take a significant beating. The only things that will hold him back are magic (which can deal serious damage to him) and his below-par Luck.
Gift List
| Gift Name | Type of Gift | Description | Rank |
| --- | --- | --- | --- |
| Whetstone | Favorite | A stone used to sharpen the blades of swords or lances. Appreciated by those who enjoy weapon maintenance. | ★★ |
| Owl Feather | Favorite | A feather from a messenger owl that can be used in a variety of ways. Appreciated by everyone. | ★★★ |
| Riding Boots | Favorite | Boots specially made for mastering the equestrian arts. Appreciated by those who enjoy horseback riding. | ★★★ |
| Training Weight | Favorite | A weight that you can strap to your back to build muscle. Appreciated by those who enjoy weight training. | ★★★ |
| Ceremonial Sword | Favorite | A beautiful ceremonial sword with a mangled blade. Appreciated by weapon collectors. | ★★★★ |
| Book of Sheet Music | Dislike | An old collection of sheet music filled with hymns and pastoral songs. Appreciated by those who enjoy music. | ★★★ |
| Armored Bear Stuffy | Dislike | A fluffy stuffed bear wearing distinguished armor. Appreciated by those who love animals or cute things. | ★★★ |
| Gemstone Beads | Dislike | Small, sparkling beads for sewing into fabric. Appreciated by fans of embroidery and handicraft. | ★ |
| Meal Name | Type of Meal | Description |
| --- | --- | --- |
| Saghert and Cream | Favorite | A baked confection coated with Noa fruit cream and a currant reduction, often enjoyed as a dessert at family gatherings. |
| Sautéed Jerky | Favorite | Jerky aged in the monastery and sautéed for a delightfully salty flavor. A perfect snack to go with your favorite drink. |
| Onion Gratin Soup | Favorite | Onions stewed with white trout and baked with a layer of cheese on top. Will warm you up from the inside out. |
| Sweet Bun Trio | Favorite | Traditional pastries from Faerghus, known for their subtle sweetness. The dough is made with eggs and sugar. |
| Cheesy Verona Stew | Favorite | A rich dish consisting of verona and sautéed Teutates loach. These ingredients are boiled and served with two kinds of melted cheese. |
| Gautier Cheese Gratin | Favorite | A gratin of bird meat topped with heaps of Gautier cheese, which is famous for its low fat content. It has a unique flavor. |
| Peach Sorbet | Dislike | A sorbet made with thin slices of magically frozen peach, dusted with bean flour. |
Lost Items
| Lost Item | Description |
| --- | --- |
| Black Leather Gloves | High-quality leather gloves for wearing under gauntlets. They probably belong to someone picky about armor. |
| Training Logbook | A detailed record of someone's combat training. It probably belongs to someone who trains relentlessly. |
| Dulled Longsword | A worn iron longsword that feels quite heavy. It seems like something Dimitri would own. |
Tea Party Conversations
Supports
Quotes
Three Houses
Heroes
Possible Endings
| | |
| --- | --- |
| | "Just a minute! The following section contains spoilers, viewing it will cost a lot. Are you prepared to pay for it?" |
---
Non-Canon Appearances
Super Smash Bros.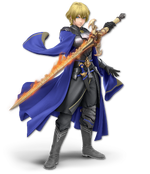 Dimitri appears in Super Smash Bros. Ultimate as a background character at Garreg Mach Monastery and as a collectible spirit in both his Academy and War Phase appearances. Byleth's third alternate palette is based off of Dimitri.
WarioWare: Get It Together!
Dimitri appears in WarioWare: Get It Together! as a background character in the Nintendo Classics microgame "Fire Emblem: Three Houses". The player engages in a Tea Party session with either Edelgard, Dimitri or Claude and must successfully choose the correct prompt. Dimitri's three prompts are always "You're great!" but the incorrect prompts include typos.
Dimitri is illustrated in the trading card game Fire Emblem Cipher with the following cards:
Choose Your Legends Placement History