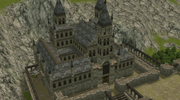 Felirae is one of the dukedoms of Crimea. Ruled by the Duke Felirae, Ludveck, Castle Felirae is its only notable location, although one chapter takes place in a nearby secret cave. Duke Felirae rebelled against Queen Elincia in an attempt to seize the Crimean throne in Fire Emblem: Radiant Dawn. Ludveck and his rebels serve as the major antagonists of Part 2 of Fire Emblem: Radiant Dawn. Castle Felirae ultimately fell to Geoffrey and the Crimean Royal Knights.
---
This article is a stub. You can help the wiki by expanding it.
---
Community content is available under
CC-BY-SA
unless otherwise noted.