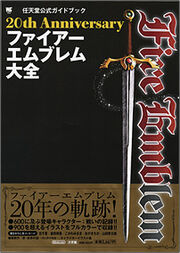 Fire Emblem 20th Anniversary Encyclopedia (任天堂公式ガイドブック 20th Anniversary ファイアーエムブレム大全) is a fan book that covers the entire series from the first installment, Fire Emblem: Shadow Dragon and the Blade of Light to Fire Emblem: New Mystery of the Emblem (although not much is covered on New Mystery of the Emblem, it does have some exclusive art).
Publisher: Shogakukan
Release: June 30, 2010 (Japan)
Price: 2,800 yen (tax included)
Type size: Text B5 size 240 pages
ISBN 978-4091064677
The book features more than 900 artworks, roughly 600 characters in over 240 pages:
Messages & Illustrations - Some exclusive art by the below illustrators. (Pages 4–8)
Fire Emblem History - The history of the games and an overview of what system they came out for, release dates and summaries. (Pages 9–16)
World Guide - Huge section that separating them not by games but instead continents, like Magvel, Jugdral, etc. Goes through each character and gives all art and a written summary beside the character. (Pages 17–216)
Gallery & Interviews - Contains all the trading card game art (in low resolution) and an interview with some of the designers. (Pages 217-239)
Columns - Some section are interspersed with other features of the fan book like red/green knight archetypes, or Roy, Ike and Marth's appearances in Super Smash Bros.
Senri Kita (Engines, Inc.) (Fire Emblem: Radiant Dawn character illustrator)
Eiji Kaneda (Fire Emblem: Binding Blade character illustrator)
Kogawa Misaki
Ogaki Chika
Yamada Koutarou (Fire Emblem: Hasha no Tsurugi manga artist)
Community content is available under
CC-BY-SA
unless otherwise noted.