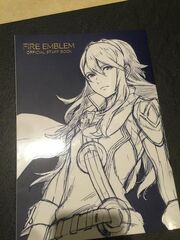 The Fire Emblem 25th Anniversary Staff Book (called the 25th Anniversary FIRE EMBLEM OFFICIAL STAFF BOOK in Japanese) is a small anniversary book that contains official artwork and messages from the developers of the Fire Emblem series. It was sold at Comiket in March 2015.
Basic Info
Edit
Release Date: March 28th, 2015
Price: 2,000 Yen
Language: Japanese
The Fire Emblem 25th Anniversary Staff Book is 41 pages long. The artwork appears to have been drawn at each artist's discretion, as it uses the art styles that they like. It sometimes depicts characters from different universes together, such as Cormag and Igrene for example. There is artwork of at least one character from the first thirteen Fire Emblem games within the book. Some notable images in the book are early concept designs for Tiki, both in her human and dragon forms.
The end of the book contains a short personality test for readers that they can take to see which character from the Archanea Series that they are most like.
External Links
Edit
FE13 Official short story - Translation of an Awakening short story included in the staff book.
---
This article is a stub. You can help the wiki by expanding it.
---