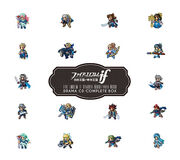 Fire Emblem Fates Drama CD is an original drama CD authored by the development staff that occurs during Chapter 4 (Volume 1), Chapter 5 (Volume 2), before the events of Prologue (Volume 3) and sometime after the events of Chapter 14 of Conquest (Volume 4).
Basic Info
Release Date: 21 September 2016
Price: 12,400 Yen (inc. tax)
Producer: Tablier Communications inc.
Publisher: Tablier Communications inc.
JAN Code: 4531894681786
Product Code: TSZS-0066
Note: If you buy the CDs separately, they cost 3,000 to 3,200 Yen each.
Contents
Audio CD x4 + Data CD x1
4-page booklet x4
A special box to house the four drama CDs
A data CD with voice data from Fire Emblem Fates
2 sheets of IC card stickers
Voice Cast
Individual CD Contents
Fire Emblem Fates Birthright Drama CD Series [Takumi's Prequel – Corrin's Homecoming Tale]
The Prince's Homecoming
The Nohrian Accomplice
Hoshido's First Battle
Qualified for the Task
A Pair of Hostages
The Third Prince
Concerns of the White Sky
Waning Moon
Fire Emblem Fates Birthright Drama CD Series [Takumi's Prequel – Decision Time Tale]
Premonition of Hope, Before the Storm
Hopeless Wish
Unwavering Distance, Nearby Thoughts
Moment of Fate
Roar
Loyal Warriors
Questioned Mind
Resolution
Fire Emblem Fates Conquest Drama CD Series [Northern Fortress Tale – Leo and Xander's Conflict]
Princess in the Fort
Big Brother and Little Brother
Clouded Journey
The Young Prince's Anguish
Impatience
In the Rain
A Leading Clue
Bonds that Call Each Other
Dreaming of a Journey
Fire Emblem Fates Conquest Drama CD Series [Corrin's Birthday Tale – Turbulent My Castle]
What kind of taste is this…?
Big brother, you're asking too directly
Understanding what can be redeemed
Calm down, my imagination
Do you want to celebrate your birthday by yourself?
I'm so happy… I'm s-so embarrassed—!
There was no time to wear my armor
If you asked me, Niles looks like a bad guy
I believe there's a reason for being born in this world
Additional Information Provided by the CD's
Takumi's Prequel – Corrin's Homecoming Tale
Takumi first meets Corrin during Chapter 4.
Saizo and Kagero are aware of the princesses' rescue attempt, but are ordered to stay by Ryoma.
Takumi is not aware of the incident, which is the reason for him not going along.
According to Mikoto, the Fujin Yumi chose Takumi as its wielder, implying that the weapon has some additional requirement to be wielded.
Takumi was previously the second prince of Hoshido; when Corrin returns to Hoshido, he becomes the second prince while Takumi becomes the third prince.
Being trained with Hoshidan weapons, Corrin had swiftly been adapting to using a katana.
The barrier protecting Hoshido seems to have been weakening.
It was Takumi who suggested the idea of Corrin sitting on the Hoshidan throne to Mikoto.
Mikoto had a somewhat precise notion of when her death would occur.
Takumi's Prequel – Decision Time Tale
The attacks on Hoshido have increased since Corrin's arrival, causing the populace to be wary of them.
Takumi was listening to the conversation between Mikoto and Corrin.
Both Ryoma and Takumi noticed the shadowy figure before his attack.
Mikoto does not die as soon as the cutscene indicates.
The Fujin Yumi is capable of shooting exploding arrows.
Takumi was attempting to kill Corrin, only to be stopped by Ryoma and Azura.
Northern Fortress Tale – Leo and Xander's Conflict
There are only a few guards in the fortress, with many people within not knowing of Corrin's presence.
It is said that Clarkenstein, a villa located within the imperial palace, is where the Nohrian royal family resides.
The barrier in the fortress seems to strengthen the people inside it rather than protect them.
The royal guards are few, while the National Defense soldiers are many, with one of their jobs being to prevent enemies from reaching the royal guards in order to prevent the overall military strength from dwindling.
Faceless can come in a larger red version, though they are rare.
The Nohrian royal children have not died only due to the conflict of the concubines; some of them have fallen in battle, been executed, or taken by Hoshido instead.
Corrin's Birthday Tale – Turbulent My Castle
Corrin seems to have a knack for remembering birthday dates, and she gives gifts, such as My Castle facial wear.
Corrin claims to need no other weapons, since they use the Yato and Dragonstone.
In addition to Peri, Corrin and Xander both see Jakob, Charlette, and Flora as the best cooks in the, Conquest Route, army.
While living in the Northern Fortress Corrin only was able to give flowers as gifts to her siblings.
The Hot Spring used by Corrin's army has designated times for men.
Trivia
"White Sky" is literally "White Night", a reference to Hoshido, which is the "White Nights Kingdom" in the Japanese version. So the track title has a double-meaning, the second being "Concerns of Hoshido".
The fourth disc mentions the swimsuit accessories, which are not available in the localized versions of the game.
Gallery
---
This article is a stub. You can help the wiki by expanding it.
---