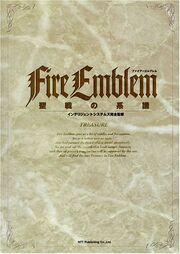 Fire Emblem TREASURE (ファイアーエムブレム 聖戦の系譜 TREASURE) is an artbook providing artworks and information of characters from Fire Emblem: Genealogy of the Holy War.
Basic Info
Edit
Release Date: January 1999
Price: 3,085 Yen
Publisher: NTT Publishing
Language: Japanese
---
This article is a stub. You can help the wiki by expanding it.
---