Main series
Featured Article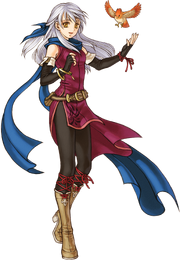 Micaiah (ミカヤ Mikaya), also known as the Silver-Haired Maiden, is a playable character, primary protagonist of the first part of Fire Emblem: Radiant Dawn, and one of the two main protagonists in the overall story. She is a wielder of Light Magic and the de facto leader of the Dawn Brigade.
She has a unique skill, Sacrifice, which allows her to give up some of her HP to heal a selected unit.
Micaiah is the first main character since Celica from Fire Emblem Gaiden to fight with magic, and the first main character in the series to use it almost exclusively.
| | |
| --- | --- |
| News | Did you know that... |
Get Involved
The Fire Emblem Wiki is a community that aims to create the best resource for the Fire Emblem series, a series of video games produced by Nintendo/Intelligent Systems.
All pages can be edited and you are welcome to join us and contribute to this wiki. Everyone is free to create a new page or edit an existing one. You can help out by looking at our wanted pages. Be sure to read over our Policies and Article Guidelines.
This Wiki now has 7,137 articles and 474,373 page edits, we would like to extend our thanks to all our contributors.
Poll
Which House will you choose?
Previous poll
On a scale of 1-5, how would you rate Fire Emblem Warriors?
The poll was created at 08:39 October 28, 2017 and 3168 people voted.
Spin-offs
Related Titles
Super Smash Bros.
Crossovers
Others
The Fire Emblem series is copyrighted by Nintendo. The Fire Emblem Wiki is in no way affiliated with Nintendo.