We have now gone to the voting phase, see here
For more info see Help:Logo.
The second one is a little messed up.
Fire Emblem Logo can be moved around, resized. Wiki can be changed to wikia if wanted, color can be changed. Suggestions for pictures can be put below.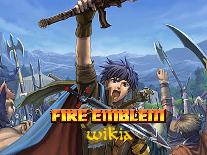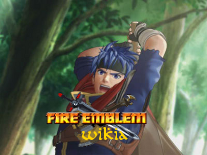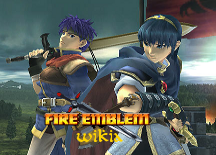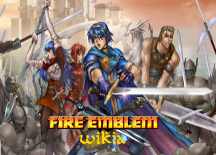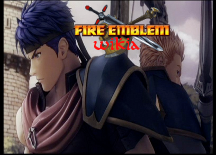 Suggestions (move around/change size/etc.)
[
edit source
]
In the first image I think the fire emblem wiki bit needs to be made bigger. --Semajdraehs- any replies to my Talk page 09:34, 9 August 2009 (UTC)
It's made bigger in the second image. I was just showing how it could be made bigger/moved around. — Balistic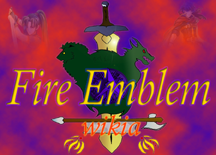 (if anyone knows where i can find a good picture of ragnell, falchion or lehrans medallion, then i can make this logo more professional lookin')
How about a collection of various Fire Emblems?--70.119.99.171 21:18, 13 August 2009 (UTC)
Easier said than done. Counting just the games, only about two of the Emblems are actually seen by the player.--Otherarrow 21:27, 13 August 2009 (UTC)

8 and I think 7 have theirs shown when the game shows the chapter name. As 1/2/3/11's is shown above us 6 shares a Fire Emblem with 7, 9 and 10 also get good images of theirs. Oh, there is an idea, do it like the chapter opening. --70.119.99.171 02:04, 14 August 2009 (UTC)

There's no proof that the symbols in the chapter openings are the Fire Emblem, except in FE9, 10. I have FE6's Fire Emblem candidate, but it's probably too small to use in a logo. It's a decent idea though. Aveyn Knight 15:45, 14 August 2009 (UTC)
If the Fire Emblem: Hasha no Tsurugi is considered canonical enough, they have a great picture of the FE6-7 Fire Emblem in volume 6. Ragnell wielder 04:23, 22 August 2009 (UTC)User:Ragnell wielder

I think we've got more than enough pretti-ful logos to choose from, it's already quite a tough call as it is. --Musagetida 09:33, 22 August 2009 (UTC)
Community content is available under
CC-BY-SA
unless otherwise noted.