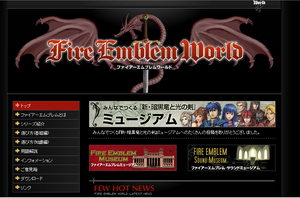 Fire Emblem World is the Japanese official website for the entire Fire Emblem series. It is not to be confused with the defunct fan site of the same name.
Fire Emblem World was created on February 1, 2007 to mark the release of Fire Emblem: Radiant Dawn. For a long time the site updated at the start of each new month and never during weekends. Upon the beginning of 2010, a notice was issued that the site would cease regular updates and it wasn't until May 2010 that the site would be updated again, in advance of the release of Fire Emblem: New Mystery of the Emblem. For a few months until December 2010, the site resumed regular updates. Mysteriously, the site updated again on September 2011, posting the results of a poll that ended exactly a year ago, possibly to foreshadow the announcement of Fire Emblem Awakening.
Radiant Dawn Background
Edit
Features a timeline for the Tellius Series (including exclusive designer's notes on the members of the Dawn Brigade), a character introduction page and a Q&A section. The translated timeline and designer's notes can be found here and here.
Fire Emblem Museum
Edit
Provides some data for Fire Emblem: Shadow Dragon and the Blade of Light to Fire Emblem: Path of Radiance, including character stats, official artwork, important items and world overview. This is also where the complete set of official artwork for Fire Emblem: The Sacred Stones was revealed.
Shadow Dragon Background
Edit
Features a synopsis of Marth and Anri's storyline, a visual walk through, wallpaper downloads and a Museum that features fan art and, later, special concept artwork.
Fire Emblem Sound Museum
Edit
Includes samples of in-game music from Fire Emblem: Mystery of the Emblem to Fire Emblem: Path of Radiance, as well as complete track listings. Fire Emblem: Genealogy of the Holy War includes twice as much samples due to the popularity of its soundtrack. Also, the ending song from BS Fire Emblem: Akaneia Senki Hen, Wind, can be listened to from the Mystery of the Emblem section.
The Others section include Fire Emblem quizzes, a demo of Fire Emblem: Shadow Dragon's multiplayer mode, a section where Intelligent Systems' president plays the first few chapters of Fire Emblem: Radiant Dawn, a fortune-telling game, wallpaper downloads and some basic information about the series.
External links
Edit
Community content is available under
CC-BY-SA
unless otherwise noted.