Flayn is a playable character from Fire Emblem: Three Houses. She lives in Garreg Mach Monastery as the only member of Seteth's family. She possesses a major Crest of Saint Cethleann.
Profile
Flayn is Seteth's younger sister. She began living at Garreg Mach Monastery in Imperial Year 1179. She is not a student, though she wants to become one someday. She lives at the monastery, as Seteth is her only family. She is a gentle and gregarious girl who interacts with others openly, but since her curiosity can make her act rashly, she makes Seteth worry a lot.
| | |
| --- | --- |
| | "Just a minute! The following section contains spoilers, viewing it will cost a lot. Are you prepared to pay for it?" |
---
Academy Phase
Flayn greatly enjoys living at the monastery, as it allows her to interact and socialize with others. During the Horsebow Moon, Flayn is suddenly kidnapped, putting Seteth and the Knights of Seiros in high alert. Rumors spread of a Death Knight kidnapping people in the middle of the night. Byleth's house searches the monastery grounds and they discover a secret passage in the knights' quarters, with an unconscious Flayn and another student being held hostage by the Death Knight. They are able to rescue Flayn after the Flame Emperor makes a sudden appearance and orders the Death Knight to retreat.
Relieved that Flayn has been found safe and sound, Seteth initially wants to take her into hiding in order to prevent the situation from happening again. Flayn rejects the idea since it would at most delay the inevitable and she would be much safer in the monastery, surrounded by capable knights, faculty, and the growing students. By her suggestion, she joins Byleth's class as an unofficial student. Seteth agrees as Byleth had proven their merit by rescuing his beloved sister.
War Phase
Crimson Flower
| | |
| --- | --- |
| | "Just a minute! The following section contains spoilers, viewing it will cost a lot. Are you prepared to pay for it?" |
---
Azure Moon/Verdant Wind/Silver Snow
| | |
| --- | --- |
| | "Just a minute! The following section contains spoilers, viewing it will cost a lot. Are you prepared to pay for it?" |
---
Personality
Flayn is a sweet, curious and polite girl who speaks formally when talking with others. Due to her isolation from the rest of society, she is very curious to learn as much as she can; even something as simple as a fish swimming sideways is enough to get her attention. However, she can take words quite literally as shown in her supports with Sylvain.
Her interests include making friends and wandering around. She particularly enjoys fishing, even hosting tournaments in the monastery due to having fond memories of fishing with her mother and father. However, she is not a good cook, as everyone, including her brother Seteth, leaves the dining hall if she ends up cooking. Only Dimitri enjoys her cooking, but this is due to him lacking his sense of taste.
She detests unnecessary violence, as shown with her supports with Felix. Flayn is a nostalgic person, with fond memories of her mother and childhood. She routinely asks Byleth if they remember when certain things happened, and reminisces about her life before the monastery.
Flayn knows Seteth has good intentions at heart, but dislikes it when he attempts to interfere with her social life, stating that she is old enough to make decisions for herself. She is interested in love and relationships, but Seteth will intimidate any student caught making advances towards her, so she attempts to conceal her romantic pursuits. In her ending with Claude, Seteth is kept unaware of their relationship, though in others he does not appear to mind.
| | |
| --- | --- |
| | "Just a minute! The following section contains spoilers, viewing it will cost a lot. Are you prepared to pay for it?" |
---
In-Game
Three Houses
Base Stats
| Skill | | | | | | | | | | | |
| --- | --- | --- | --- | --- | --- | --- | --- | --- | --- | --- | --- |
| Level | E | C | E | E | E | E | C+ | E | E | E | D |
| Start | | | | | | | | | | | |
As an Enemy
| Skill | | | | | | | | | | | |
| --- | --- | --- | --- | --- | --- | --- | --- | --- | --- | --- | --- |
| Level | E | E | E | E | E | E | A | A | - | - | - |
| Start | | | | | | | | | | | |
| Skill | | | | | | | | | | | |
| --- | --- | --- | --- | --- | --- | --- | --- | --- | --- | --- | --- |
| Level | E | E | E | E | E | E | A | A | - | - | - |
| Start | | | | | | | | | | | |
Growth Rates
Class:
Maximum Stats
Learnt Magic
Learnt Abilities
Recruitment
Flayn is automatically recruited into any house Byleth is teaching at the end of Chapter 6.
During Chapter 11, if the player is teaching the Black Eagles house, Flayn will permanently leave the party if the player has chosen to side with Edelgard. Any items that Flayn is carrying beforehand will also be lost, so it will be best to return the items into the convoy before attempting this chapter. If the player instead decides to side with the Church of Seiros, then Flayn will remain a playable unit as normal.
Overall
| | |
| --- | --- |
| | Subjective: The following part of this article is based upon the editor's personal experiences and opinions, and therefore may not be applicable for all readers. |
Flayn is a Priest and will likely be the second healer for the player. She has strong growths in Magic and the highest Resistance growth in the game, allowing her to heal and attack magically while warding off enemy mages. Her Charm and Dexterity are both above average, allowing her to hit enemies reliably and to use Battalions with effectiveness. However, she has one of the lowest physical bulks in-game and is only average in Speed, meaning that most physical units can fell her in a single round of combat. She also has terrible Luck, leaving her vulnerable to critical hits. As such, she should be avoiding direct confrontation as much as possible, thus having a unit between her and the enemies is ideal. This also allows her to grant her Personal Skill Lily's Poise onto her adjacent allies, reducing the damage they receive by 3. This effect does not extend to her, however.
Flayn's strengths lie in Lance and Faith, the latter which establishes her as a healer while the former is rather unusual as her Strength growths are low and unreliable. It could theoretically help her become a Holy Knight, but she has a weakness in Riding. Her Faith spell pool has Restore, removing any negative status condition on allies within her range such as Poison, Rescue to pull allies out of danger back to her side, and the extremely useful Fortify, which heals all allies within her range. She is one of two characters to have this in their Faith pool, the other being Mercedes, making Flayn incredibly handy for the non-Blue Lions routes if Mercedes is not recruited. However, Flayn lacks Physic when compared to Mercedes, which forces her to stay closer to the front lines in order to heal allies, which can put Flayn at risk.
She has a Budding Talent in Reason which in turn gives her more offensive magic growth if focused. She has a focus on wind spells, which are lightweight and accurate, compensating for her low Str and Dex. Unlocking its potential grants her Seal Magic, which has only limited usefulness as it will only allow allies to engage with an enemy's damage reduced if she attacks first on the player phase, and few magic enemies will remain standing against two attacks.
One of Flayn's subject weaknesses is Riding, which is a minor hindrance as the only thing this does is slow her down from becoming a potential Holy Knight or Dark Knight. Her other is subject weakness is Heavy Armor, but given her inherent strengths in magic, it is advisable to avoid training her in said subject. Her initial D rank in Flying also means she can become a Pegasus Knight fairly easily, and while she might not do well in it due to her weak Strength stat, she could still take the time to master Darting Blow.
Flayn naturally fits in her Priest and Bishop class path, but if she is trained in Reason, she can also shift into a Mage and Warlock and later combine the two into the Gremory class. All of these choices will play off of her Magic focus. Bishop and Gremory are especially considerable for doubling uses of her powerful support magic. While investing in her Riding may prove difficult due to her subject weakness, her performance as a Holy Knight or Dark Knight will be stellar. An even better class for her would be Dark Flier, which plays to all her strengths and allows her to acquire Transmute, making her even better as a magical bait unit; its only downside is that it doesn't provide additional charges for her Faith spells.
Overall, Flayn makes for an ideal healer and magic bait character, able to withstand nearly any spell thrown at her while also dishing out a reasonable amount of her own damage. As one of only two candidates with Fortify, she is invaluable to have in long battles, while Rescue gives her another means of saving her allies. She may be physically weak, but she more than makes up for it in her ability to dominate mage-versus-mage fights and her ability to preserve her allies.
Gift List
| Gift Name | Type of Gift | Description | Rank |
| --- | --- | --- | --- |
| Tasty Baked Treat | Favorite | A baked confection made by mixing fruit into dough. Appreciated by those with a sweet tooth. | ★ |
| Stylish Hair Clip | Favorite | A hair accessory from a popular manufacturer. Appreciated by fashionable women. | ★★ |
| Dapper Handkerchief | Favorite | A handkerchief adorned with refined embroidery. Appreciated by fashionable men. | ★★ |
| Armored Bear Stuffy | Favorite | A fluffy stuffed bear wearing distinguished armor. Appreciated by those who love animals or cute things. | ★★★ |
| Forget-me-nots | Favorite | Grown sometimes in Fodlan. Appreciated by those who like flowers. | ★★★ |
| Owl Feather | Favorite | A feather from a messenger owl that can be used in a variety of ways. Appreciated by everyone. | ★★★ |
| Whetstone | Dislike | A stone used to sharpen the blades of swords or lances. Appreciated by those who enjoy weapon maintenance. | ★★ |
| Blue Cheese | Dislike | A pungent cheese with a very distinctive taste. Appreciated by lovers of food and drink. | ★★★★ |
| Meal Name | Type of Meal | Description |
| --- | --- | --- |
| Grilled Herring | Favorite | Herring caught off the coast of Albinea, shredded and grilled in an earthenware pot with sliced turnips. |
| Saghert and Cream | Favorite | A baked confection coated with Noa fruit cream and a currant reduction, often enjoyed as a dessert at family gatherings. |
| Fish and Bean Soup | Favorite | A soup made by simmering white trout and chickpeas. A simple yet wholesome dish. |
| Onion Gratin Soup | Favorite | Onions stewed with white trout and baked with a layer of cheese on top. Will warm you up from the inside out. |
| Sweet Bun Trio | Favorite | Traditional pastries from Faerghus, known for their subtle sweetness. The dough is made with eggs and sugar. |
| Fruit and Herring Tart | Favorite | A baked tart with stewed herring and Noa fruit mixed into the batter. Popular in Enbarr, the Imperial Capital. |
| Fisherman's Bounty | Favorite | Freshly-caught fish are cut into chunks and stewed together to make this hearty dish. |
| Pheasant Roast with Berry Sauce | Favorite | Well-roasted Fódlan pheasant drizzled with a berry reduction sauce. |
| Cheesy Verona Stew | Favorite | A rich dish consisting of verona and sautéed Teutates loach. These ingredients are boiled and served with two kinds of melted cheese. |
| Fish Sandwich | Favorite | A simple dish. Airmid pike is pickled in vinegar and served with cabbage between two slices of bread. |
| Country-Style Red Turnip Plate | Favorite | A balanced meal including red turnip and verona stew, red turnip salad, and sautéed red turnip with garlic. |
| Peach Sorbet | Favorite | A sorbet made with thin slices of magically frozen peach, dusted with bean flour. |
| Pickled Seafood and Vegetables | Favorite | A Dagdan dish of raw fish and turnips pickled in a vinegar-based seasoning liquid. Rarely eaten in Fódlan. |
| Two-Fish Sauté | Favorite | Two types of fish are cut into strips and sautéed in butter. This lavish meal hails from Enbarr, the Imperial Capital. |
| Cabbage and Herring Stew | Favorite | Cabbage and Albinean herring stewed whole. The fish guts lend this hearty dish a superbly bitter kick. |
| Bourgeois Pike | Favorite | A gourmet fish dish with Airmid pike, vegetables, and a sprinkle of expensive spices. Popular among nobles. |
| Sautéed Jerky | Dislike | Jerky aged in the monastery and sautéed for a delightfully salty flavor. A perfect snack to go with your favorite drink. |
| Garreg Mach Meat Pie | Dislike | A crispy-brown pie packed with tomatoes, cheese, and tender chunks of meat. |
| Super-Spicy Fish Dango | Dislike | A light snack, popular in the Empire. Small, spicy balls of fried dough packed with white trout and dried tomato. |
| Sautéed Pheasant and Eggs | Dislike | Thin slices of bird meat and shredded cabbage, mixed with scrambled eggs and sautéed with spices. Invention of a certain noble. |
| Gautier Cheese Gratin | Dislike | A gratin of bird meat topped with heaps of Gautier cheese, which is famous for its low fat content. It has a unique flavor. |
| Vegetable Stir-Fry | Dislike | A dish of dried tomatoes, cabbage, chickpeas, and other vegetables, stir-fried with eggs. Nutritious and very filling. |
Lost Items
| Lost Item | Description |
| --- | --- |
| Antique Clasp | An expensive-looking clasp with an outdated design. It probably belongs to someone who is not up on trends. |
| Old Map of Enbarr | An old map of Enbarr. It probably belongs to someone with a connection to the Imperial capital of the past. |
| Dusty Book of Fables | A well-loved book of children's fables. It probably belongs to someone who has fond memories associated with it. |
Tea Party Conversations
Supports
Quotes
Three Houses
Heroes
Possible Endings
| | |
| --- | --- |
| | "Just a minute! The following section contains spoilers, viewing it will cost a lot. Are you prepared to pay for it?" |
---
Non-Canon Appearances
Super Smash Bros.
Flayn appears in Super Smash Bros. Ultimate as a background character in the cathedral scene at Garreg Mach Monastery.
Flayn is illustrated in the trading card game Fire Emblem Cipher with the following cards:
Choose Your Legends Placement History
Etymology
Flayn's english name appears to be an approximation based on her Japanese name which is written as "furen". In Japanese phonetics, the F and H sounds are incredibly close, similar to how the L and R sounds are interchangeable. Her name in the Japanese version is "Hrönn" which is approximated as "huren" in Japanese.
Hrönn, one of the nine daughters of the norse sea god Aegir. The name comes from an old norse word for "wave". One of the other daughters of Aegir, Hefring is the namesake for Linhardt 's family name.
| | |
| --- | --- |
| | "Just a minute! The following section contains spoilers, viewing it will cost a lot. Are you prepared to pay for it?" |
---
Trivia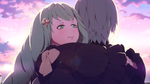 Flayn has an unused artwork depicting her S-Support with Byleth in the Crimson Flower route, suggesting that she was initially going to stay with the Black Eagle Strike Force but was later scrapped.
Flayn shares the crest of Cethleann with Linhardt.
In the internal game's data file, Flayn's age is coded as being 17, though her exact age is never stated in-game and appears as "???" in her profile card.
Flayn stands at 151cm (or about 4'11"), making her the shortest character in the post-timeskip.
On the Crimson Flower path, Flayn becomes one of the six characters in the game that will leave the army. The others are Edelgard and Hubert on Silver Snow path, Dedue on Azure Moon path, Ashe (if recruited) on Silver Snow and Verdant Wind path, and Lorenz (if recruited) on Silver Snow and Azure Moon path.
If Flayn is taken to the old church in the Enbarr battle map, she will comment that it was the place where her parents met.
Flayn has a unique battle model as a Priest.

Otherwise, she uses pink colors for her classes.

Flayn inherited her love of fishing from her mother, who was a skilled fisher. Flayn also says that her mother was a talented cook, unlike her.
As an enemy in the Battle of Garreg Mach, Flayn has access to Seraphim, a spell outside of her playable spell pool.
Flayn is one of the few characters who will retreat, rather than die, if defeated on Classic mode in the War Phase. The other four are Hilda, Hubert, Gilbert, and Seteth.

However, she won't be playable anymore, and it is said in the ending screen that she'll die from her wounds soon after the war.

Flayn only retreats if defeated on Classic mode in the Silver Snow route. She will die in the Verdant Wind and Azure Moon routes.

Flayn in the timeskip has the least amount of victory quotes in the series with only a total of 2.
In a survey conducted by Famitsu Magazine, Flayn placed 13th for females and 23rd overall with 333 votes in the character popularity poll for Fire Emblem: Three Houses.
| | |
| --- | --- |
| | "Just a minute! The following section contains spoilers, viewing it will cost a lot. Are you prepared to pay for it?" |
---
Gallery