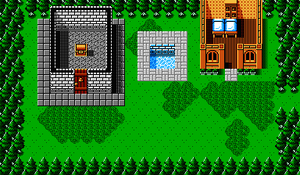 "A village hidden in a clearing within the dense forest. An endless string of bandit attacks have left its people exhausted."
—Description in Fire Emblem Echoes: Shadows of Valentia.
Forest Village is a location from Fire Emblem Gaiden. It is located in western Zofia and appears in Chapter 3 of Alm's route.
Recruitment
Luthier - Talk at the north side of the village.
---
This article is a stub. You can help the wiki by expanding it.
---
Acts and Battles
Campaign
P: Alm and Celica* - A1: Zofia's Call - A2: The Pilgrimage - A3: War of Deliverance - A4: Land of Sorrow - A5: Together to the End - A6: Thabes Labyrinth*
DLC Chapters (Xenologues)*
Fledgling Warriors:

The Astral Temple

-

Band of Bandages

-

Wretches and Riches


Undaunted Heroes:

Wealth Before Health

-

The Inner Sanctum

-

Lords of the Grave


Lost Altars:

Altar of the Destrier

,

Altar of the Titan

,

Altar of the Skylord

,

Altar of the Sorceress

,

Altar of the Faerie

,

Altar of the Ogre

,

Altar of the Marksman

,

Altar of the Savant

,

Altar of the King

,

Altar of the Queen


Rise of the Deliverance: Battle of Zofia Harbor - Outpost Rescue - Flight from the Ruins - Siege of Zofia Castle
Cipher Companions: Cipher Legends I, Cipher Legends II