Not to be confused with the chapter name, The Pirates of Galder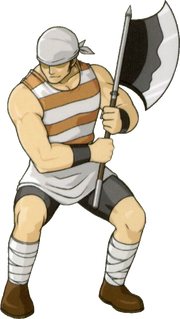 The Galder Pirates (also called the Pirates of Galder in the anime) is an enemy organization in Fire Emblem: Shadow Dragon and the Blade of Light and Fire Emblem: Shadow Dragon. They are a group of pirates named such because they seized control of the port of Galder.
Notable Members
Gallery
---
This article is a stub. You can help the wiki by expanding it.
---