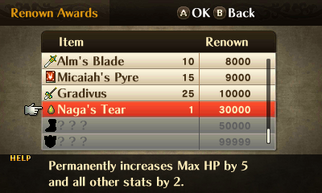 Renown (Fame Points in the Japanese version) is a game mechanic that appears in Fire Emblem Awakening. Renown can be used to obtain rewards outside of battle via the Communications menu, like the Second Seal or Celica's Gale. When starting a new game, and clear data is available, the data with the highest amount of Renown will be transferred over.
How to Earn Renown
Edit
The easiest way to obtain large amounts of Renown is to repeatedly hire and fire low-cost SpotPass teams. Xenologue 13 is useful for obtaining the funds for that very purpose.
List of Renown Awards and Costs
Edit
Note: Each item can only be exchanged once per game file. Renown is not consumed after an exchange.
| Item | Renown |
| --- | --- |
| Glass Sword | 50 |
| Second Seal | 100 |
| Orsin's Hatchet | 150 |
| Seed of Trust | 210 |
| Levin Sword | 270 |
| Energy Drop | 330 |
| Beast Killer | 400 |
| Spirit Dust | 470 |
| Celica's Gale | 550 |
| Secret Book | 630 |
| Longbow | 720 |
| Ephraim's Lance | 810 |
| Goddess Icon | 900 |
| Bullion (L) | 1,000 |
| Speedwing | 1,200 |
| Leif's Blade | 1,500 |
| Bolt Axe | 1,800 |
| Seraph Robe | 2,200 |
| Innes' Bow | 2,600 |
| Mercurius | 3,000 |
| Dracoshield | 3,500 |
| Noble Rapier | 4,000 |
| Tiki's Tear | 4,500 |
| Parthia | 5,000 |
| Sigurd's Lance | 5,750 |
| Talisman | 6,500 |
| Hector's Axe | 7,250 |
| Alm's Blade | 8,000 |
| Micaiah's Pyre | 9,000 |
| Gradivus | 10,000 |
| Naga's Tear | 30,000 |
| Boots | 50,000 |
| Supreme Emblem | 99,999 |