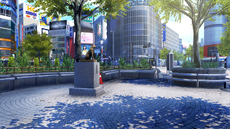 Shibuya (渋谷) is a ward of Tokyo and a prominent location in Tokyo Mirage Sessions ♯FE.
Overview
Shibuya is a shopping and fashion hub of Tokyo. Some of its best known landmarks are the Hachiko statue located at the Shibuya Station and the Shibuya 109 building (referred to as the Shibuya 106 building In Tokyo Mirage Sessions). It is also known for its scramble of crosswalks filled with heavy foot traffic.
In Tokyo Mirage Sessions, Shibuya is the largest explorable space in the game, outside of the Idolaspheres, and is home to several prominent sites:
Other businesses that line the streets cannot be entered, but can be interacted with at points for the purposes of side quests.
Etymology
Shibuya is based on the real life Tokyo ward Shibuya (渋谷). The game features many of its most noteable landmarks such as Shibuya 106, Hachiko Statue, and the Shibuya Crosswalk.