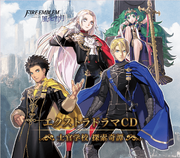 Three Houses Extra Drama CD: An Officer's Academy Sleuthing Story (ファイアーエムブレム エクストラドラマCD 風花雪月~士官学校 探索奇譚~) is an original drama CD authored by the development staff that occurs during the events of Fire Emblem: Three Houses.
Basic Info
Release Date: 18th March 2020
Price: 2000 Yen (incl. tax)
Publisher: Intelligent Systems Co., Ltd
Distributor: Pony Canyon Inc.
JAN Code: 4589875322302
Product Code: QWCI-00009
Contents
Voice Cast
Individual CD Contents
Disk 1
Additional Information Provided by the CD's
Trivia
---
This article is a stub. You can help the wiki by expanding it.
---
Characters at Garreg Mach Monastery