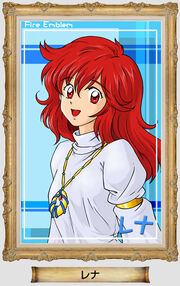 I am the user Naglfar94. I became a member of this wiki to add photos, fix stubs and just plain add on to stuff. I love Fire Emblem I just love it just as much as I love Naruto I own quite a few Fire Emblems the titles are.Fire Emblem: Seisen no Keifu,Fire Emblem: Monshou no Nazo,Fire Emblem: Fuuin no Tsurugi,Fire Emblem: Rekka no ken,Fire Emblem: Sacred Stones and Fire Emblem: Shadow Dragon. I am fairly not good at editing here as I don`t know how to work everything but I try. I would also like to thank user`s Otherarrow, Engweimin and Aivass Remurias for helping me out even when I mess up thank you very much friends I`m trying really really hard to get better at this but I will get the hang of it just be patient. I have also created a wiki recently the Nage Libre wiki so that game can finally have info up since it had next to no info about it up at first. You can also come to my other wiki the Inukami wiki. I have also recently became the admin of the SaGa Wiki
Fire Emblem games I have played
[
]
Favorite Characters
[
]
Favorite Male Characters
Favorite Female Characters
Favorite Weapons in Fire Emblem
[
]
Naglfar,Holsety,Fala flame,loputousu,Falchion,Sharp claw,Aura,Excalibure,Wrecthed air,Demon surge,Rizire,Yotsmungand,Wo Dao,Kill sword,Silver lance,Gradivus,Gungnir
Alittle about this user
[
]
Likes:Naruto,Fire Emblem,Pokemon,Pikmin,Nage libre seijaku no suishin,mega manX series,Anime,Animals,Golden sun,Romancing SaGa and much more.
This user has Mild Cognitive Impairment
Other personal info:???? no one needs to know that stuff
Top three Fire Emblem games: Fire Emblem: Seisen no keifu, Fire Emblem: Monshou no nazo and Binding Blade
Page`s I like a lot
[
]
Gallery
[
]
Giving a thank`s
[
]
I would like to say thank you to Otherarrow and Aivass Remurias for being kind to me and trying to help me out up here when I need help. even though more often than not I find myself making mistake`s thoes two help me, everyone is very kind here let`s all make this wiki a great place toghether! when I`m here I find myself feeling quite at home editing with the other user`s bye for now everyone.
My personal goal on this wiki
[
]
I hope to one day be better at editing stuff up here my editing skill`s have grown alot now from when I first joined. and to think I started with just adding photo`s up here and now I have moved up alittle..there are still thing`s I won`t touch though and I have also not been asking for help as much so is`nt that great? though I still mess up somtime`s and then well.. it get`s corrected but I can`t wait to start editing up here with near to no mess up`s just like everyone else bye for now intil another time!
other spots I like
[
]