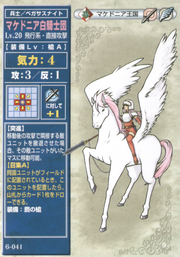 The Whitewings are the group of Medonian Pegasus Knights that Princess Minerva founded and leads. It consists of Minerva, and the three sisters Palla, Catria, and Est, who can perform a triangle attack.
History
In the War of Shadows they are forced to assist Doluna due to Minerva's sister Maria, being held captive, and they participate in the attack on Aurelis, and later on Marth's army in the Lefcandith Gauntlet. After they refuse to fight Marth's army, Doluna separates them from Minerva, fearing they will rebel. After Maria is rescued from her confinement, Minerva is able to join Marth's army, and Palla and Catria do so later after catching up with them in Grust. Est joins the army much later, after flying to Grust alone to retrieve Mercurius. They then all assist in ending the War of Shadows and defeating their king, Michalis.
After the War of Shadows, Est is captured by pirates, and Palla and Catria follow the pirate ship to a distant continent, and they get caught up in the War there. After rescuing Est, they return to Akaneia.
Members
Trivia
The Whitewing's members are the first characters in the Fire Emblem series to be able to perform a Triangle Attack.
The Whitewing's Unit card in Fire Emblem Trading Card Game features a generic Pegasus Knight, which may suggest that there are more members of the Whitewings.