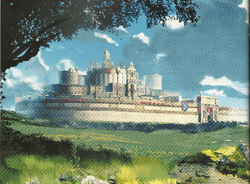 "The heart of the kingdom of Zofia. A sprawling city stands within its walls. Its construction and decor are the height of decadence."
—Description in Fire Emblem Echoes: Shadows of Valentia.
Zofia Castle (Sofia Castle in the Japanese version) is a location on the world map from Fire Emblem Gaiden. It appeared on the end of Chapter 1 in Alm's route and Chapter 2 in Celica's route, and the beginning of Chapter 3 in Alm's route. The bosses in Zofia Castle on Chapter 1 are Desaix and Slayde.
Gallery
---
This article is a stub. You can help the wiki by expanding it.
---